J103 Ironman Volunteer Team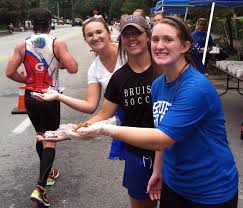 You are Needed! You have been given so much potential, so many gifts and talents. The happiest you will ever be is when you are sharing, utilizing your God given gifts to please Him.
On Sunday, September 25th we (J103) are heading up an Aid Station for the Ironman race. Our Aid station is going to be at Amnicola Hwy and Curtain Pole Rd (near the Chattanooga Food Bank). We still need about 30 more volunteers to fully staff this much needed ministry.
On that day over 2,800 athletes from here in our area and from around the country and world will be swimming, biking and running. They need us! We will be handing out all of the needed water, Gatorade, food, sponges and "goo."
Want to be a part of our team? We are going to have so much fun. We are going to have a surprise theme that will really cause the athletes to take their mind off of the pain and uncomfortable feelings they may be experiencing.
It's easy to sign up and anyone can help. Just click on the Ironman Link on the home page of the website here. That will take you to the Ironman Volunteer Page and a drop down menu of the various volunteer shifts will appear. Click on one or more of the "J103 Radio" shifts and use the password "Volunteer." I will send you all the info you need from there.
This will be a great opportunity for your family to serve together!