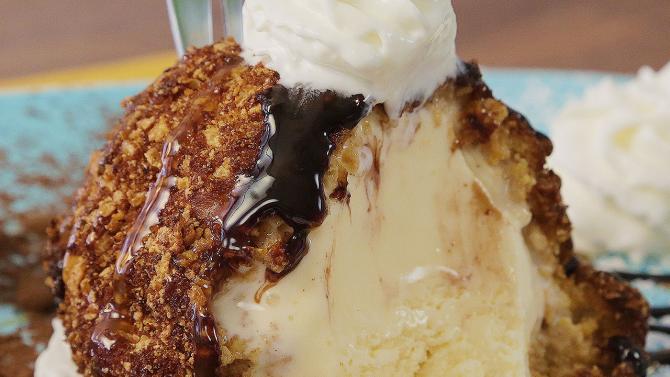 Each month, Parade magazine appears in the Times Free Press.....this little magazine is full of delicious recipes that make my mouth water.
In this last edition the recipe brought back fond memories of my teenage years going to a "Mexican" restaurant called Chi Chis that was in Louisville (among other cities). For dessert I loved the "Fried Ice Cream."
Here is Parades recipe:
Scoop Icecream onto a wax paper-lined baking sheet. Form each scoop into rounded balls with your hands. Place baking sheet in freezer for at least 15 minutes. In a skillet, melt 1/4 cup (1/2 stick) butter. Add your favorite crushed nut, cookie or cereal, stirring frequently until butter is absorbed, 3 to 5 minutes. Set aside to cool. Remove cookie sheet from freezer and roll ice cream balls in topping mixture, pressing mixture into ice cream until coated. Drizzle or sprinkle with remaining topping before serving.
Variations:
Mexican: Vanilla icecream + crushed Cinnamon Toast Crunch Cereal + chocolate syrup
Strawberry Shortcake: Strawberry icecream + crushed Nilla Wafers + whipped cream + sliced strawberries
Margarita: Lime sherbet + crushed pretzels + lime wedge + pinch of salt
Pina Colada: Vanilla Icecream + coconut flakes + pineapple preserves (like Smucker's)
Coffee Cake: Coffee icecream + crushed pecan shortbread cookies + chocolate syrup